An Introduction to the LeanActivity Enterprise Game.
Webinar was recorded on Wed, 17th March 2021
Introduction to the Enterprise Game.
What is the aim of the LeanActivity Factory Game?
The aim of the LeanActivity Factory Game is to show the participants in a playful way the benefits and effects of Lean methods and tools on their production. Through interaction and discussion during the game, the participants are encouraged to contribute their ideas and test their creativity directly on the game model. Towards the end of the game, the participants will be impressed with the improvements made due to the Lean principles.
The LeanActivity Factory Game is a kind of door opener, because after participating in the game, it creates openness among colleagues for upcoming Lean activities in the Organization.
How is the game structured and how does it work?
All game elements come safely packed in a hard protective aluminum case. The moderator, who will lead the game in the workshop, sets up the game according to the given initial situation. Don't worry: the moderator receives step-by-step instructions for this.
In the miniature factory that has been set up, the task is to assemble pens in two different colors according to the customer request. A total of 7 stations are available for this. We also have an employee from logistics who is responsible for providing materials. Ideally, these 8 game roles are assigned to one participant each. Each participant receives a work task, which is documented on the work instructions (will be dealt beforehand).
The game consists of 10 main rounds and 2 additional rounds, which can be played after round 10 if necessary.
Content of the Game Rounds
The LeanActivity Factory Game starts very smooth in the first round with some basic introductions to Lean, such as the introduction to the 7 types of waste in manufacturing. In the subsequent rounds, Lean methods and tools are presented to the participants one by one and applied directly in our miniature factory. The following Lean methods and tools are trained in the individual rounds: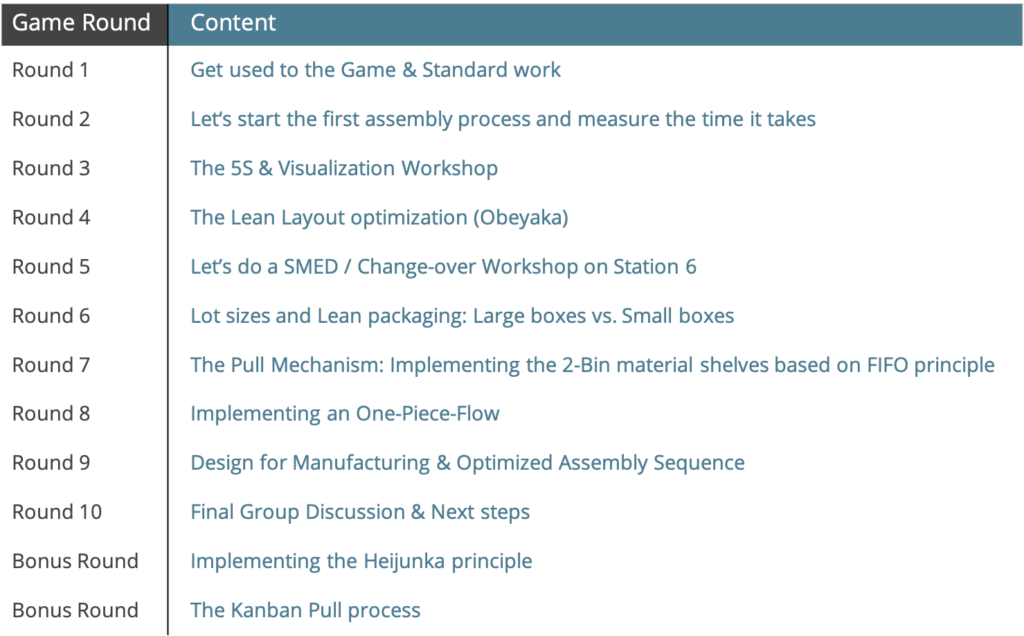 Would you like to find out more or do you have questions about the Game?
Let's have an individual meeting! - We answer all your questions personally.