What is Gamification and why should you use it?
Inspire your employees with playful trainings.
Inspire your employees with playful trainings.
Gamification is the use of games and game design thinking on realistic processes and tasks in order to solve problems and engage participants. The aim is to increase the users' motivation by actively participating in the game. Gamification exploits people's interest in participating in games and doing activities that are normally considered boring, such as daily routine activities or work steps. First data analyzes of the gamification approach show some significant improvements in areas such as higher employee motivation and learning success.
Getting Lean into people's minds: through Gamification
In order to be able to achieve a Lean Mindset in the organization, a systematic qualification of the employees is required. Training and coaching activities based on theoretical lessons try to make the Lean principles understandable to employees.
The result looks like this: The employee can say that he has heard something about Lean, but doesn't really know how to use it in his daily work. And here is the critical point.
Theoretical training courses do not bring sustainable success, as the Cone of Learning confirms: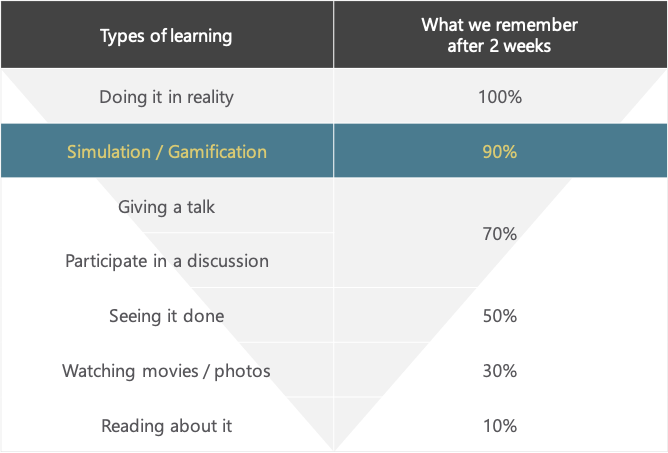 Why do we need a Lean Mindset in the Organization?
The Lean approach relies on efficient processes by focusing on value creation and the elimination of waste. But that is not all! In lean management, it was recognized early on that the added value must be aligned with the customer in order to design processes and products in a customer-oriented manner. In addition, the human resource is seen as one of the success factors. Because a continuous improvement process can only be achieved through their daily suggestions and ideas.